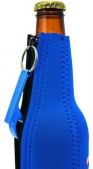 U.S. Poly Enterprise is a leading manufacturer of beverage containers including the Neoprene-type or "wetsuit material" insulated can holders and bottle insulators. We offer retailers better products, better logos and better displays. We welcome your interest and can provide additional information by phone or online. Click here if you would like pricing information on our neoprene products.
The CAN-TASTIC is designed to be pocketable and fits both cans and bottles. Our pocket product comes in free counter displays (24) and is loaded on a heavy duty hang card so it's ready to J-hook or clip-string in the beverage section.
The BOTTLE BAG should be in every promotion and an "everyday" item in every store. This item is packed with assorted light novelty logos, a belt loop, a heavy duty plastic swivel clip and a draw string. It's the only insulated product available that holds 12- to 24-ounce bottles. Select from counter displays (20), floor displays/wing panel (80).